Read the terrific reviews Fall of Rome has gotten for online multiplayer games from many popular sources. Click on the magazine link to read the entire review. They keep pouring in!
The most recent is from Wargamer. William Trotter has written strategy game and war game reviews for PC Gamer and Wargamer for more than 20 years. He is also an excellent novelist with fourteen books written. Find him at www.trotterbooks.com as well as at Wargamer. He is known as a particularly critical reviewer. A few of his impressions from his Fall of Rome review are shown first, below:

Fall of Rome is hands-down one of the top-rated online strategy games to emerge in many a year. Itís incredibly rich, colorful, and nuanced; addictive as crank, and designed with a care and attention to detail that is rare in any gaming genre.

I trust that what I have described, though, is sufficient to give you a solid overview of how robust and finely detailed Fall of Rome truly is, both in its political-economic-diplomatic structure and in its blood-and-thunder combat elements.

Just as the political/diplomatic model in Fall of Rome is one of surprising sophistication, the military structuring in this online war game is detailed enough to please all but the pickiest grognard.

The game takes a quantum leap in vigor, complexity, and sheer skull-duggery as, one by one, the contending kings consolidate their rule over their starting regions.

So, clearly, the optimum route to victory is a dual path comprising diplomacy and political skills on the one hand, and the threat or actual deployment of first-rate troops on the other. Silver-tongued diplomats and grizzled Centurions are your two major assets.

In sum, I give Fall of Rome my heartiest recommendation; it really is Something Special.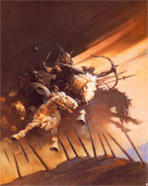 "Every battle unfolds in story form and these read like the best battle scenes you'd find in any fantasy novel."
"All in all, Fall of Rome is a game for the consummate online multiplayer games player, the one who wants deep gameplay, a good story, and a great online multiplayer games community."
"I highly recommend this game."
"The rich political system in Fall of Rome makes these online multiplayer games so much more than a simple movement of armies into battle. The triple colossi of economic, politics, and combat in these strategy games is further enlivened by other design features, most notably agents and artifacts."
"You learn the results of battles in this online rpg through well-organized, well-written narratives that convey the flavor of the fight and provide clues of what you may have done right or wrong."
"Iíve long sought the perfect online multiplayer games. This one has me running through the house yelling 'Huzzah!'"
"Combining aspects of an online rpg with traditional online war games,†Fall of Rome . . . combines†political intrigue, high-level strategy, and tactical combat all intertwined with the ambitions and frailties of the human mind."
"Participants in the strategy games of Fall of Rome are tasked with leading a tribe of peoples to ultimate victory over†eleven other human opponents, allowing for a great deal of intrigue, combat, deal-making and back-stabbing as online rpg players claw their way to victory, or find themselves cast by the wayside in defeat."
Rating: five stars out of five!
"I rate the GUI for Fall of Rome as excellent, and for intuitiveness it is, unquestionably, one of the very best that I have ever encountered in online multiplayer games."
"As to the strategy games challenge factor, I would rate Fall of Rome as being superb."
"In my many years of playing online multiplayer games, I can honestly say, without reservation, that I have never encountered a company that does any better job on the customer service front, than the folks at Enlightened Age Entertainment."
Overall Rating: 9.6
"Multiple award-winning game designer Rick McDowell and team has seamlessly melded historical accuracy and the inherent complexity of strategy games with an easy-to-use GUI and brilliant artwork to provide a level of online multiplayer games that will exceed every expectation."
"Competing against eleven other players on a map containing villages, towns, cities and areas containing fearsome guardians of legendary artifacts, imposing our will beyond the borders of our own kingdom is the most challenging aspect of this online rpg."
"In these strategy games, no single strategy dominates the game. Diverse play styles all have an opportunity for success and encourage online rpg style."
"Fall of Rome is a thrilling and complex online multiplayer games sure to challenge the most avid strategy games player. We need only a web browser and a desire to crush our competition. Five out of five stars for online multiplayer games!"